A few months back, President Donald Trump reacted to the statement from Pope Francis criticizing his plan to build a wall on the Mexican border, calling it "not Christian."
"When they say the wall's immoral, well then you got to do something about the Vatican, because the Vatican has the biggest wall of them all," Trump said in a cabinet meeting.
Other GOP officials were quick to chime in as well. "Amazing comments from the Pope — considering Vatican City is 100% surrounded by massive walls," tweeted Dan Scavino, Trump's campaign senior adviser and social media director.
Those statements caused a flurry of reaction from both Vatican officials and historians alike, pointing out that the Vatican isn't a walled city as Trump would have us believe. Rev. James Martin, America magazine editor and a Catholic priest , was among the first to react, tweeting a picture of St. Peter's Square, with a caption: "To all those tweeting photos to me of the Vatican walls that supposedly keep people out, a photo I took. Drop by!"
"The fortifications were built a very long time ago," Martin added. "This Pope didn't build them — and he certainly didn't build them to keep out poor migrants."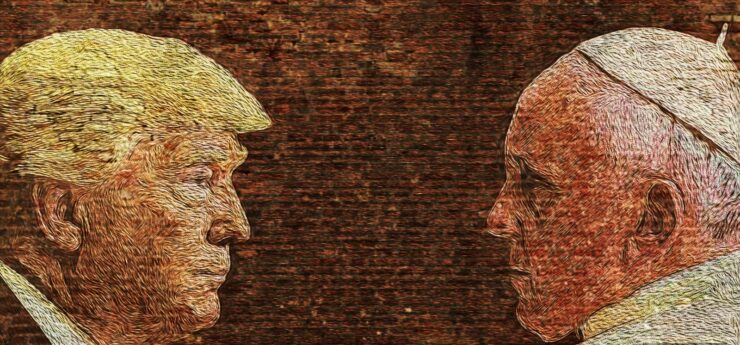 So, what is the truth about the Vatican wall?
In 846, Muslim raiders attacked Rome and sacked Old St. Peter's Basilica. The Raiders defeated the defenders of Roman port Ostia and followed Tiber into the city, which was guarded by Aurelian Wall, built between 271 AD and 275 AD. These new fortifications vastly expanded the walled territory compared to the older Servian Wall from the early 4th century BC. Unfortunately, the area around Vatican Hill was on the north bank of the Tiber and the wall didn't extend that far. The Raiders took advantage of that fact and sacked two basilicas, getting away with huge plunder.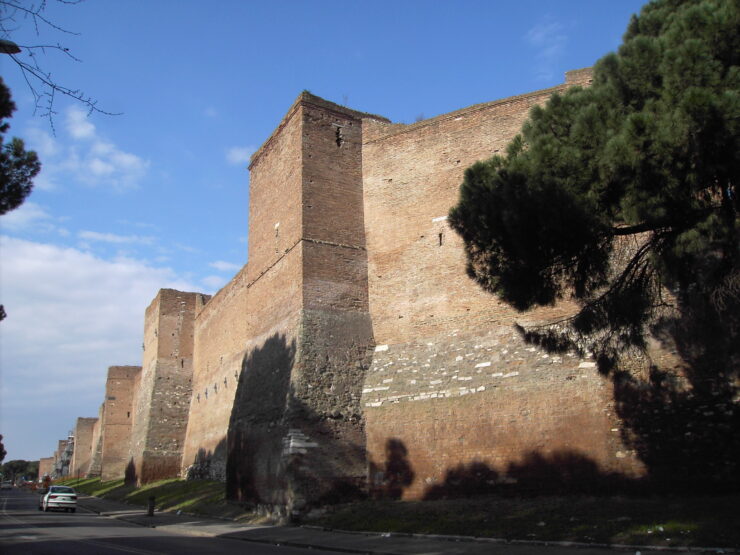 Pope Leo IV has had enough of that and decided to enclose the Vatican in strong walls. That was not his original idea. One of his predecessors, Pope Leo III, tried to build a wall some 40 years earlier but lacked the funding to finish the project. What little was done was soon dismantled by the Romans and materials were used for their own purposes
Pope Leo IV was a wealthy man, so he used workers from his own vast estates to start construction. At first, he personally bankrolled the project, but later he managed to secure an imperial donation from Frankish court and Emperor Lothar I. Eager to finish the wall as soon as possible, he used whatever workforce was available, including Saracens captured after the sea battle of Ostia in 849, when they tried to sack the city again., but were soundly defeated by the Christian League under the leadership of Caesar of Naples.
Leonine Wall, as it was later called, encircled Vatican Hill and its surroundings. It was around 40 feet high and had 44 towers, built at the bowshot distance from each other, and three gates. The area inside the wall became known as Leonine City. It was independent of Rome and considered a separate city. The most important fortification was Castel Sant'Angelo, formerly Hadrian' Mausoleum, once the tallest building in Rome. The construction lasted from 848 to 852 and it was the first time Rome's fortifications were enlarged since Aurelian Wall was built 600 years earlier.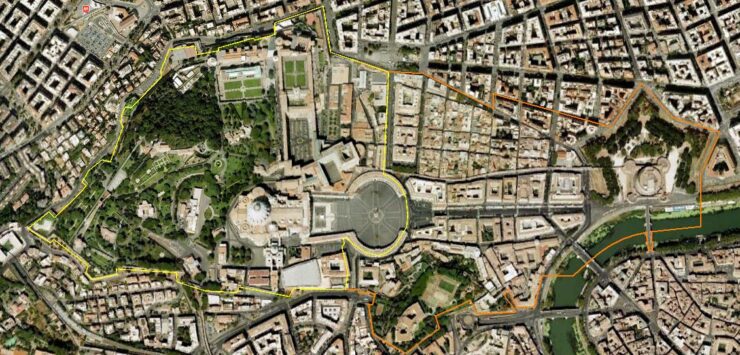 Leonine City came under siege in 1083 by Henry IV, Holy Roman Emperor, when Pope Gregory VII clashed with him about the limits of papal authority. The city fell to Henry's troops, but Pope managed to hold in Castel Sant'Angelo until relief came.
Vatican Wall was amended by Pope Pius IV in the 16th century. He opened up three more gates and reinforced the walls.
After the Italian Revolution, Leonine City was the last remnant of the Papal States. In 1929, the Lateran Treaty confirmed the independence of the Vatican within those borders.
The truth is that the Vatican does have walls, built some 1,200 years ago, but its gates are wide open. Furthermore, there are no barriers on St. Peter's Square, and anyone can just waltz in, with only security measure being a metal detector.